Backlash - San Jose's darkest goth and industrial club
iPhone and iPad users use the two-finger swipe to scroll album covers
Goth & Industrial music
The History of Backlash
January 1996
DJs Venus & Furs (Paul and Mike) have consumed the blood of the Bay Area's alternative culture, music and amusements since the days of San Jose's Club X. It was their passion that revived this scene in San Jose in 1995.
Breaking in the doors of a comatose nightclub on S. First, Venus & Furs managed to electrify life into the very walls of Hell by re-animating the lost and disembodied to assemble them into the night known as "Whiplash". They successfully established an authentic industrial and gothic night not imitating nor limited to the local Top 40 radio hourly repeating playlists. Surviving the attempted sabotage from constant club management decisions to change Whiplash's night of the week (changing every three weeks), Venus & Furs were able to retain a loyal patronage that continued to swell. 
Renaming the night "Backlash", Venus & Furs have moved their dark rhythms and smokey ambiance to the Cactus Club, Thursdays. The move opened the doors of Backlash to the 18-to-20-year-olds.
July 1996
Having a hard time grasping reality themselves, Venus & Furs O.D.ed on pixie dust. Now DJs DEAD BOYS USA (Paul and Sean) and occasionally DJ Temper, have control of the overworked fog machine and malfunctioning volume slider.
January 1998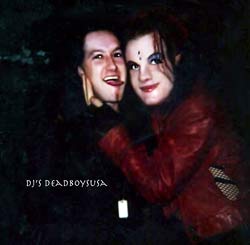 Backlash has enjoyed another year-and-a-half of success. Where most clubs die in less than a year, Backlash celebrated it's 2 year anniversary on January 29th.
Backlash made an impact on the South Bay inspiring additional alternative/retro nights to sprung up, feeding off the regular clientele of San Jose's darkest night club. Cactus Club best known for its live shows featured DJ-dance three nights a week. From the icon of DJs Dead Boys USA and Krystal Girl Jodi (an addition to the DJ roster) sprang Flashback (80's) on Tuesdays and Club DeVolve (industrial, techno) on Sundays. Additional clubs/nights hosted that same year in the bowels of SOFA were System 7, The Reflecting Skin (Tuesdays at S First Billiards), Das Club, Flesh & Steel, One Step Beyond X, THE FACTØRY, Lust and a few more. Even The Usual (formally F/X) boasted alternative/80's on Fridays providing a safe haven for Backlash regulars.
DJs Dead Boys USA guest-DJed several other night clubs including: Catacombs/SF, So What/SF, Culture Shock/SF, Convergence III /SF. DJs Dead Boys USA also hosted several live shows including DAS ICH, LAIBACH, Sister Machine Gun, CHEMLAB, Gravity Kills, HATE DEPT, BABYLAND, DIVE, EVA O, EVIL MOTHERS; locals: Switchblade Symphony, 187 Calm, Kill Sister Kill, Winter Chapter and Spit Kiss. The pro-active DJs also brought to San Jose Ronnie Moorings of XYMOX, The Torture King, The 1997 Projekt Party. 
Continuing to strive in making life enjoyable and drama filled, Backlash (via the talents of The Great & Might WebKeeper) created (nearly a decade before Twitter) BackStab, the on-line gossip/chat page where patrons chatted and, er, backstabbed invigorating the "scene" with hook-ups, breakups, fights over the keyboard at DNR's, and of course: gossip and rumors. Backlash also supported local efforts of 'zines such as Divulge.
For the efforts of DJs Dead Boys USA (along with Krystal Girl Jodi and The WebKeeper), Backlash was rated by the Metro newspaper, "Best Sign of (Night) Life," September 1997. 
December 1998
Backlash leaves the Cactus club. Cough… Too bad Steampunk hadn't become fashionable yet.
January 1999
Backlash moved the spooky fun to  ECCO as Avalon, burying the name DJs Dead Boys USA and adding DJ Jackal. Shortly thereafter Avalon redresses as Hypnotica. It felt good. It tasted good. But it didn't last. We never regained our sea legs. 
June 6, 1999
Backlash returns to SoFA; to bowels of The Usual. Now a monthly, every first Sunday, and 21 and over. A long time listener and first time caller, DJ Zoggy spins the antechamber.
January 2000
Backlash starts the millennium likes it's 1999, losing Paul (Venus & Furs, Dead Boys USA, DJ Piss Khrist), graduating Zoggy to the main room and adding DJ Synth2k to the front. The end of the 21st Century proved just too much to handle. It would have been much easier with flying cars. 
June 2000
Backlash refuses to get out of bed and is canceled forever making the attendance record breaking May night to be the last. The final DJ's (in order of time served) Krystal Girl Jodi, Jackal, Zoggy, and Synth2k. The WebKeeper flies to Vegas to gamble off all remaining assets...
BackStab 
BackStab continued beyond the demise of the dance night changing it's name to Mourning Room to finally, shut down in 2001 as everyone migrated to Live Journal, then Friendster, then Tribe, then MySpace, then Facebook where many Backlash regulars are still friends as of 2011.  
Harry Potter Store